Altex - Coulisse
Innovative Strength
Coulisse and Altex have introduced two fast-forward collections of exclusive window coverings especially developed for the Canadian market. The exclusive collections of contemporary European designs include an exceptional range of premier roller shade and panel track fabrics, each with its own distinctive look and atmosphere.
Coulisse's and Altex's innovative strength is expressed by inspiring collections and advanced system solutions.
Alleen's product range comprises all possible types of window coverings. From roller, panel and vertical blinds to Wood blinds, roman and pleated blinds. The vast product range provides possibilities in systems and collections to tie in with internationally diverse tastes, styles and window types.
The systems for window coverings have an aesthetic and compact design and are available in a variety of types (from basic to full-option). In the development of our systems, easy and efficient assembly, installation and use are paramount. The designs are modular, which makes it possible to use the same parts for a number of systems.
The collections are extensive, varied and innovative. In addition to simple, functional fabrics in varying qualities, the product range also includes exclusive, decorative varieties. The color palettes are extensive and comprise timeless tones and trendy colors. The designs are innovative and stylish. View our complete product range in store.

Roller Shade
Our traditional roller shades are of affordable quality and consist of opaque, translucent or transparent fabrics that roll up and down around an aluminium tube using a chain mechanism. They are installed on the frame or inside the frame of the opening window or door using two lateral brackets.
Benefits:
Ease of use
Numerous options
Sophisticated and simple design
Aleo™
Our Aleo™ roller shade is equipped with a system allowing for effortless raising and lowering also ideal for larger shades! In addition to its exclusive operating system, Aleo™ has a unique sleek and modern design which is opened to many customizations such as choosing to have the Aleo™ with an open roll or with a cassette covered or not with a choice of fabrics.
Benefits:
Lite-Lift®
Exclusive design with numerous options
Can be lowered from the bottom bar
Increased durability
Easy installation
Panel Track
Our panel tracks are composed of three to six fabric panels attached to slides using velcro. The slides, moving inside the tracks, make it possible to slide the panels from side to side. Panel tracks are a good solution for your French doors, patio doors or big windows and can be customized with valance, mouldings and wood or faux wood appliqués.
Benefits:
Very accessible because of its lateral opening
Makes an elegant room divider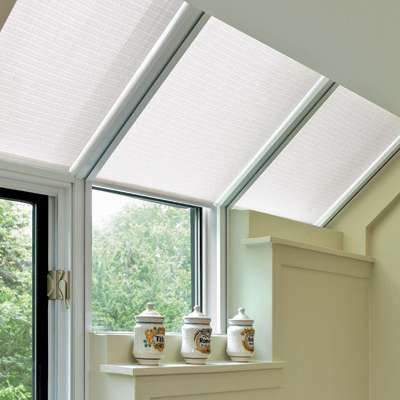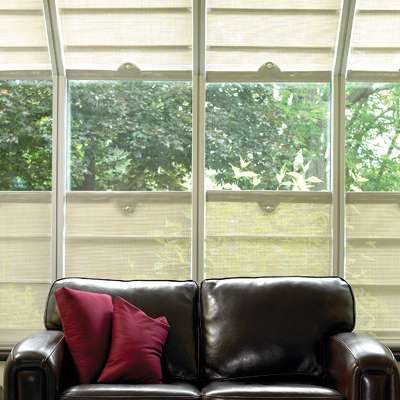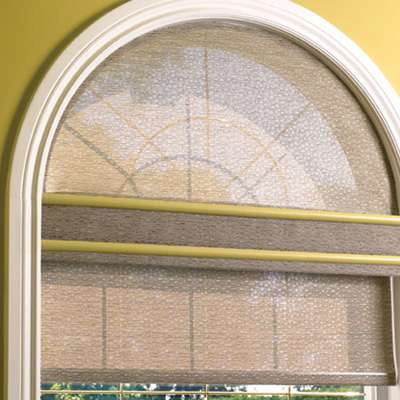 Ready-to-install
Ready-to-install shades consist of a solar shade equipped with small horizontal hems in which pressure rods are inserted. The pressure rods keep the ready-to-install shade in place inside the window frame without any screws or brackets. Ready-to-install shades cannot be raised or lowered. Ready-to-install shades are the ideal solution for solariums or skylights. They completely cover openings that are vertical, horizontal or on an angle.
Benefits:
Excellent quality/price ratio
Easy and quick to install – no need to drill holes in the frame
Can be installed on an angle and even horizontally
Inclinable Roman Shades
Inclinable roman shades consist of roman shades mounted on a white aluminium side channel system. They can be raised or lowered using a telescopic rod or just using the handle. Inclinable roman shades are an excellent choice for vertical, horizontal or garden windows. They are ideal for skylights, greenhouses and solarium.
Benefits:
Can be installed vertically, on an angle and even horizontally
Can be opened in various intermediate positions or entirely
Fixed multiform shade
Fixed multiform shades consist of fabrics cut to the exact dimensions of windows in various shapes (circular, octagonal, rectangular, half-moon, crescent, etc.) or according to a template. A female velcro is sewn on the entire shade and is accompanied by a vinyl track equipped with male velcro to hold the shade in place. The shade is fixed and cannot be raised or lowered.
Benefits:
Ideal for windows and openings in various shapes
Easy to install
Can be installed on an angle and even horizontally